Grand Canyon 2012
Rim-to-Rim, Trans-Canyon Trek, July
| | |
| --- | --- |
| | |
| | Two Yoots and a Geezer |
This was my 5th cross-canyon trek:
With Eric, North Rim to South, 2 days, overnight at the Bright Angel Campground, around 1992 (Lousy geezer memory, donchasee.)
With Eric, North to South, 1 day. (Mine was a 13 1/2 hour day.) A year later.
With Eric and Dave (my elder son), South to North, two days, overnight at Cottonwood. 2000.
With Al, Allan, and Jim, North to South, 4 days, overnight at Cottonwood, Bright Angel, and Indian Garden. 2004.
With Eric and Raymond, North to South, 3 days, with two nights at the Bright Angel campground. 2012.
Here's the trail map: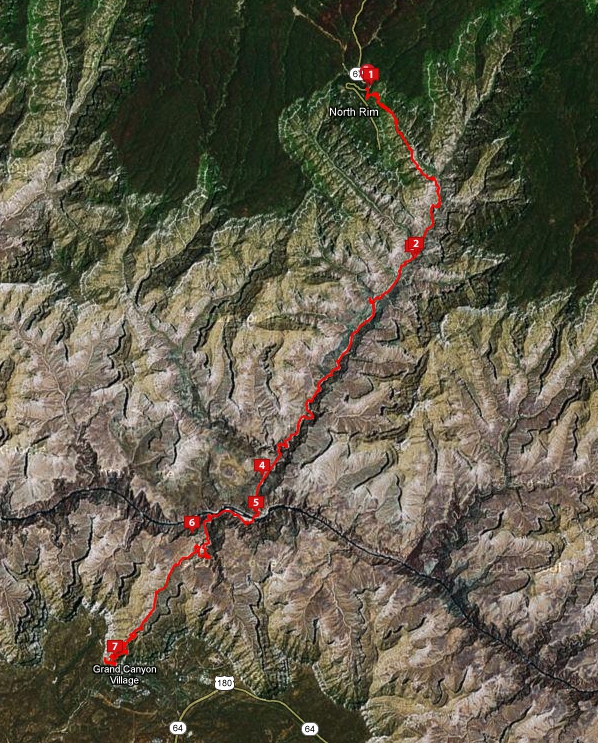 Code:
North Rim to Cottonwood
Cottonwood Campground
Cottonwood to the Bright Angel Campground
Bright Angel Campgroud and Phantom Ranch
Bright Angel to Indian Garden
Indian Garden Campground (actually 6 is misplaced on the map: Indian Garden in on the Tonto Plateau after (south of) the arduous series of switchbacks that climb from the river.)
Indian Garden to the Bright Angel Trailhead
Ref: http://www.everytrail.com/guide/hiking-the-grand-canyon-rim-to-rim/map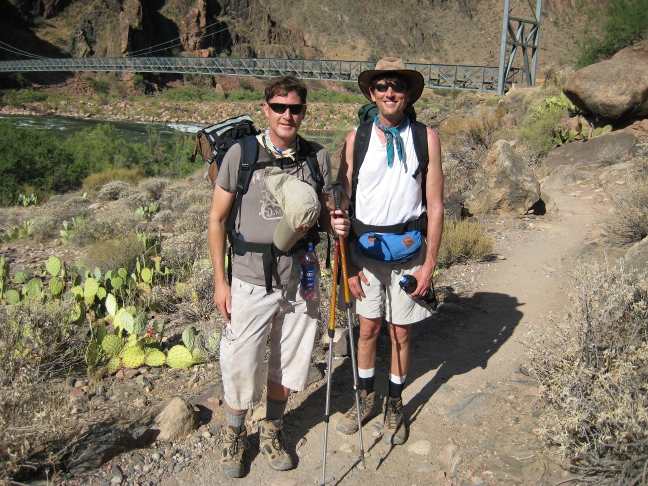 Raymond and Eric, intrepid trekkers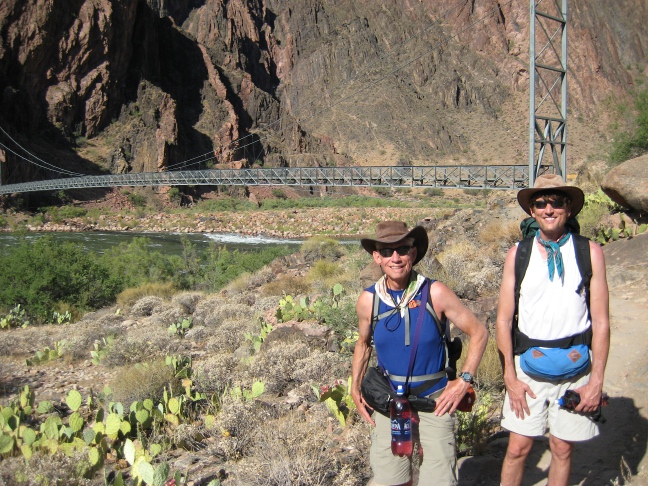 Chuck and Eric. Beginning the hike out, July 7, 2012
Here's a zip file with several more pictures that I am too lazy to build webpages around.